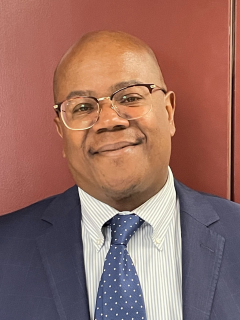 Welcome to Hillside High School High School. My name is Mr. Terry Woolard, and I am honored to serve as your principal. I look forward to working with our staff and students, assisting them in fulfilling their purpose, and reaching their maximum potential. I hope all of you enjoyed your summer and are ready to return to school. As we move forward this school year, I want to remind everyone of our vision statement: "Hillside High School students will take the initiative to become respectful citizens, creative problem solvers, and inspirational leaders who will be equipped with the skills to compete in an ever-changing global society," we know our faculty, staff, and students will work towards making our mantra a reality.
Please remember that our students are expected to wear their uniforms on a daily basis. Uniform details and the uniform policy can be found here: https://hillsidepsnj.sites.thrillshare.com/o/hhs/page/school-uniforms
School begins promptly at 8:00 am and the day ends at 3:02 pm. We have several exciting and engaging activities embedded in our school culture. Take a moment to familiarize yourself with our Student Handbook which can be found at the following link:
Hillside High School Student Handbook
Every opportunity within our learning community assists in continuing the standard of excellence and rich tradition that we are extremely proud to showcase. It is because of supportive parents, guardians, and community members like you, that we are able to mold, shape, and impact the lives of our students. It takes a village to raise a child and Hillside is that village.
Our staff has worked hard to earn the trust, respect, and affection of our community. In alliance with students, staff, parents, and community, we will continue to focus on academic excellence, collaboration, student achievement, critical thinking, parent and community involvement, while preparing students for the global world!